Welcome and thank you for visiting KirkStierwalt.com, the home of STIERWALT CATTLE AND CLINICS. Please feel free to browse our site to learn more about our family, our clinics, and upcoming fitting demonstrations. Please do not hesitate to contact us if we can be of any assistance.

— Kirk, Juli, Kyra, and Ky Stierwalt
STIERWALT CATTLE NEWS & UPDATES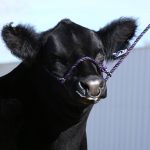 Thanks to everyone for the great feedback on Real Deal at NWSS. We are looking forward to great things from this bull!